Best Way Websites
---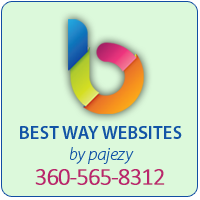 Best Way Websites is an authorized (corporate sub-agent) licensee of the pajezy.com website design software and website content management system (CMS).
Best Way Websites
by Pajezy

834 East Front Street
PO Box 2851
Port Angeles, WA 98362
Toll Free Phone: (888) 202-8605
Our Local Area Licensees
We work with you in conjunction with an existing licensee when one is available in your area, or we will first create a license and then distribute your website via that license. By doing this, we can still service your account while we search for a buyer of your local license.
Our Private Label Program
Licensees are individuals (entrepreneurs) or companies that purchase a license of our software (using their own label) to either add an additional service and revenue stream to their existing business or to create a new one.
They are supported directly by pajezy.com inc and there are many different licensing options - one that will suit any desired business type.
If you are interested in becoming a licensee, just give us a call.
Get Your Free Website Demo or Free Consult!
Enter Invitation Code
or Zip Code