Website Content Management System (CMS)
---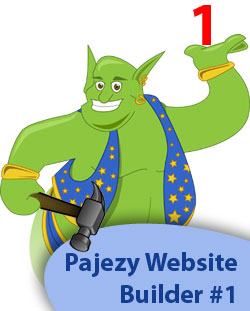 Website Content Management System (CMS)
Pajezy was developed with the following priorities as a foundation:
Easy to use

Easy to look great

Easy to afford

Easy to get help

Easy to get found
Easy to Use
Pajezy is easy to use and offers you a straightforward GUI (graphical user interface). The pajezy interface is iconic, making it easy to know what to do when you want to make changes to your website, and you can change just about everything without worrying about breaking anything.
Easy to Look Great
Pajezy manages your website's contents using our propietary method which we call "themes". Each pajezy theme has just a few elements that manage the entire look and feel of the web pages.
These themes "call" for meta tag elements and body elements from the user's database (which is created and maintained like magic) and the consistency of page styles (colors, links, rollover effects, background colors, fonts, logo placement ...) are managed via external style sheets (.css).
You do NOT have the privilege of manipulating these core elements (theme, stylesheet) and therefore you CANNOT make your pages inconsistent or ugly.
We give you "enough liberty" to put you in control, but NOT "enough rope" to hang yourself!
An ugly website does not help you and it does not advertise our product well, either.
Elements of the style sheet can be changed for you upon request. You can even have your own, custom theme and we can "lock" it in for you.
Easy to Afford
Have you ever been "gouged" by your webhosting company when you needed changes to your website or tech support? O yeah, I know the stories. Now you know why the hosting service so cheap. It's worth even less than you pay for it!
Pajezy does NOT sell a cheaper program, it sells a better program. We believe that any properly developed and marketed website will always be worth more than you are paying for it. When something is worth more than you pay for it, that is called a good value.
With pajezy, you pay a flat monthly or annual fee and that's it. Pajezy is available by subscription from an authorized licensee. The basic subscription includes all of these for a flat fee:
A FREE domain name.

A FREE and unlimited hosting account.

Unlimited email accounts (at your own domain).

Unlimited use of the pajezy program (pajezy CMS [content management system])

Unlimited, toll-free phone support for the editor

Unlimited, toll-free phone support for hosting account (as directly related to the pajezy CMS)

Unlimited, toll-free phone tech support for technical issues with the server that hosts your account

ALL phone support is ALL American, All of the time!

A minimum of ten (10) in-bound, one-way links from ten different domains.

YOU NEVER GET CHARGED AN ADDITIONAL FEE, EVEN IF YOU CALL EVERY DAY, SEVERAL TIMES A DAY.

That is why this program is so popular!
Easy to Get Help
The basic service with pajezy includes unlimited, direct, phone support via your licensee and/or toll-free phone support from our own, ALL American, all of the time call center at the corporate headquarters in Port Angeles, Washington.
Easy to Get Found
Pajezy accomplishes basic, on-site SEO "on the fly." When pages are created using the pajezy CMS, all you need to do is start the page with your keywords in the title and push a button!
The pajezy CMS does the rest, properly setting your TITLE tag, META tags, creating an appropriate Heading tag, embedding a default image (which you will replace with your own) with the proper ALT tag, and giving you a start for your first text area with the same keyword phrase planted.
The resulting page is automatically SEO friendly!